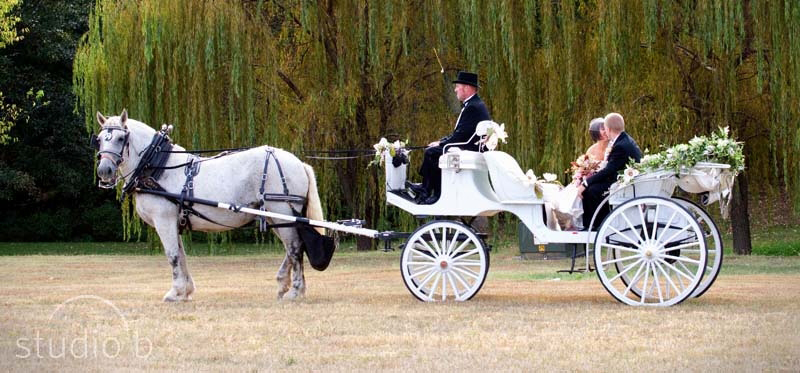 Thank you for selecting Horseshoe Bend Carriage Company to be apart of your special day. This page is a guide to assist you in filling out a Contract Worksheet or the Contract Form on this site. Until we know the specifics about your requirements from us, we cannot guarantee the availability of your first choice of vehicle(s) or horse(s). We give preference of vehicles and horses on a first come first serve basis by receipt of the deposit and contracts. Once the information is received by either mail, email, or fax the contract will be filled out reflecting the information given and it will be returned to you for your review and to be signed. Once you sign the contract you should return it to us for our signature and we will forward you a copy of the entire contract.
There are several things to consider when filling out the Contract Worksheet/Contract Form:
Emergency Contact – This should not be yourself or anyone actually in the ceremony. This person is our contact just prior to, or during, your ceremony that we can contact in the very unlikely event we have experienced a problem that would affect us providing service or quality of service. This person should have a cell phone on them and be able to answer it if called.
Type of Vehicle – The traditional wedding vehicle is a Vis-à-vis carriage (seats 4-6). The Limo carriage is similar to the standard carriage but has an additional seat for 2-3 additional people. The other types of vehicles are also available if you would like; such as a wagonette that hold 10-12, the trolley that holds 24, or the hitch wagon.
Horse Choice – There are pictures of our horses on the website you may view and choice from.
Carriage Choice – There are pictures of the carriages on the website.
Driver Attire- For most weddings, the driver will wear a Tux and top hat. You may choose different attire if your wedding is theme based or less formal (theme costumes for drivers may cost additional).
Place of service- Please give us the name and address the event will take place (some cities may require advance notice of routes or additional permits).
Vehicle start time- This is when you want the vehicle to be in place at the location you want to be picked up at. This is when your time starts. Time runs continuously from this time until the duration of your contract. It is very important to know the sequence of event leading up to when you plan to step onto the vehicle i.e. are pictures going to be taken with the vehicle before the ceremony, are pictures going to be taken after the ceremony and before you leave by carriage, will you leave by carriage immediately after the ceremony and return for pictures before proceeding to the drop off location. You should consult with your wedding planner and photographer so that you know the sequence of events and how long activates will take. Because we often book several weddings a day, your horse or carriage may be coming from or have to go to another event so start and stop times are very important. We do allow, in our schedule, for some extra time but we ask you to be as accurate as possible so that it does not negatively affect yours or someone else's plans.
Vehicle End Time- This is the end time for our part of the event. We base the cost of the service on the start and end time. This time is important because we may have other events scheduled after yours so we may not be able to extend your time after this point.
Pickup Location- This is the exact location you would like the vehicle at to pick you up i.e. the front door of the church on the road, the gazebo at the front entrance to the park, etc.
Drop-off Location- This should be the exact location (including address) you would like to be dropped off i.e. the side door of Bauer Haus where the stairs go up to the second floor entrance.
Special/Route Instructions- This section you would tell us of any special instructions such as a special route you would like to go to the drop off location i.e. from the church to the river (Newburgh lock & dam) for pictures before going to the reception, etc.
Additional Information/Notes- This area you may give us any additional information you think would be pertinent to our serving you. You may include the name and number of your planner or photographer or you could ask for something special to be on the carriage like bottles water, special decorations, or anything else you think we would need to know.
It is our intension to do everything in our power to exceed your expectations of our service. The best way we can accomplish this is by having accurate information from you. If anything changes in your plans that would affect our part of your special day, you should let us know as soon as possible. In most cases we are able to change times, dates, locations, and duration of service if given advance notice (two weeks or more is desired). Without notice, it may not be possible to deviate from the contract due to other obligations we may have.
If you have any questions at all, please feel free to call and speak with a company representative. Thank you again for selecting us and we look forward to working with you and being apart of your special day.
Photos

See various photos from weddings, rides and more.



Reservations

You can request a reservation .