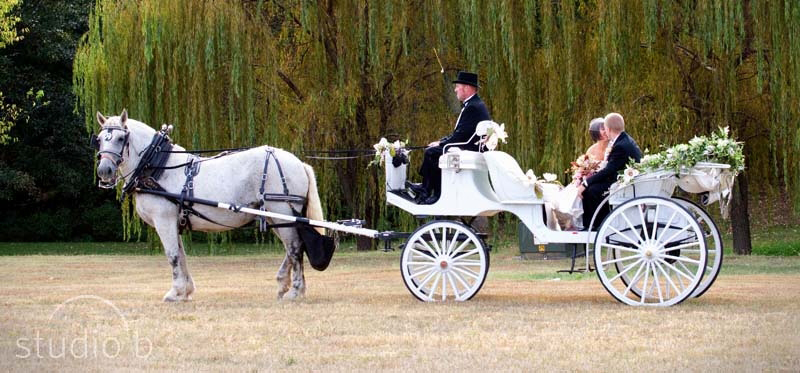 Horseshoe Bend is the oldest continuously operating carriage company in Evansville, IN. The company was founded by Greg and Suzie DeVoy who did a wonderful job of establishing it as "Evansville's Carriage Company". We, Randy & Sheila O'Risky, continue to be Evansville's Premier Carriage Company providing carriage rides around Evansville's downtown and Newburgh river front (weather permitting). Carriages can be found around Casino Aztar, Historic Main Street, " The District", and the surrounding area during the spring, summer, and fall (reservations are not needed). From Thanksgiving until New Year's each year, we operate carriages through Ritzy's Fantasy of Lights in support of Easter Seals. We specialize in providing elegant Carriages as well as other horse drawn-transportation all over the tristate area.
All of our carriages and other horse-drawn vehicles are kept at the company's warehouse in downtown Evansville. The horses in the company are family pets first and are always treated as such. The horses all have a comprehensive health, dental, vacation, and retirement plan. Their meals were specially designed for working draft horses by a nutritionist at Nutrena and they are monitored daily to insure they receive all of the hay, grains, nutrients, and water they need. Per City of Evansville and Indiana requirements, the horses are registered with the city and have proof of health inspection and insurance; the vehicles are commercial grade and are designed and maintained to meet the demands of commercial use. The owners have owned and worked with horses their entire life and have over 30 years of horsemanship each. No horse, carriage, or driver works for the company until they have been tested, inspected, and pass all company, state, and city requirements.
Photos

See various photos from weddings, rides and more.



Reservations

You can request a reservation .