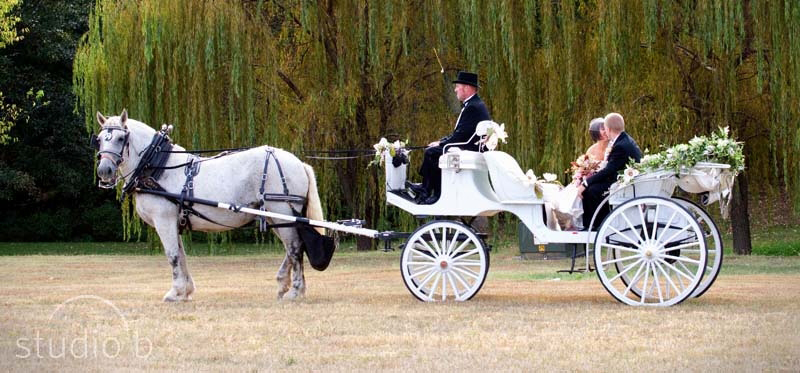 Horseshoe Bend Carriage Company specializes in providing romantic carriages for Weddings, Princess Parties, Anniversary Rides, Wedding Proposals, and Romantic Rides through the streets of downtown Evansville as well as the surrounding tri-state area.
---
Special Event / Wedding- at your location
We will gladly transport one or more of our carriages to your location to provide you with romantic transportation to, from, or during your special event. To book a special event simply call us and we will discuss your needs and give you several options to choose from. A deposit will be required when the contract is signed and the balance is due two weeks prior to the event date. Special Event pricing begins at only $100 depending upon type of event, vehicle choice, number of horses required, distance to be traveled, and the day of the week.
Weekend Night (Fri & Sat)- Downtown Evansville Rides
During the Spring, Summer, and early Fall our carriages can be reserved by appointment. (weather permitting). The Carriages can come outside of Casino Aztar, Hotel & the District, River and on Main Street. Reservations are needed and you can always call for us to come and pick you up at a downtown location for a ride. If you would like to be picked up at one of the restaurants around Main Street or downtown hotels , you may ask the staff to call us for you or you may call us at (812) 449-6321. Rides start at only $100.00 for approximately 25-30 minutes around the downtown area. Longer rides or tours are available. A carriage ride down historic Main Street or 1st Street is a wonderful way to see the town's historic buildings and homes.
Saturday & Sunday Day- Historic Tours
If you have a large group and would like to book a carriage for historic tours or transportation to one of the area's five museums simply call 24 hours in advance to make reservations. Price is based on length of tour, number of passengers, and type of vehicle.
Photos

See various photos from weddings, rides and more.



Reservations

You can request a reservation .